Orthodontics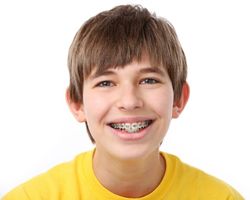 As with most dental and oral health issues early treatment can prevent more extensive and costly treatment later in life. Correcting your child's bite can improve their oral health as well as boost their self-confidence.
The team at Park Place Jr. will keep a close eye on your child's oral development. If your child requires orthodontic treatment, we will recommend the appropriate starting age.
Your Child's First Visit
Following a review of their medical history, a few photographs will be taken followed by a brief oral exam, to help the orthodontist make a recommendation for treatment. Should orthodontic treatment be necessary, we will discuss the orthodontic process and what to expect every step of the way. Fees, financial options and insurance coverage will all be reviewed with you by our treatment coordinator. We are happy to send predeterminations to your insurance on your behalf so you can be informed on what your coverage is for orthodontic treatment.
The Right Age
Orthodontists can successfully correct most problems regardless of the patient's age. But that does not mean that the orthodontic treatment starting age does not matter. In fact, it may play a significant role in the total time and expense required for the completion of the orthodontic treatment.
Early Intervention
An early exam allows Dr. Omar to determine how and when a child's particular jaw and/or dental problems should be corrected for the optimal results. This exam typically takes place between 7 to 9 years of age. If it is too early to do treatment, this exam will give an estimated timeline on when orthodontic treatment should be re-evaluated. Our philosophy on early treatment is to provide limited treatment if necessary to aid in proper growth and development and to help reduce the time needed for more extensive treatment in the future.
Adolescent Treatment
During adolescence is when most orthodontic problems are treated. During this phase, all or most permanent teeth have erupted and patients are at one of their most active phases of growth. Since the jaws are actively growing, it's a perfect time for correction, giving them a beautiful smile as they mature into young adults.
Invisalign

Invisalign straightens your teeth without wires and brackets, using a series of clear, customized, removable appliances called aligners. It's virtually undetectable, which means hardly anyone will know that you're straightening your teeth.
Clearly Different
The Invisalign System combines advanced 3-D computer graphics technology with 100-year-old science of orthodontics. Invisalign aligners are designed to move your teeth in small steps to the desired final position prescribed by your orthodontist. Each aligner is precisely calibrated and manufactured to fit your mouth at each stage of the treatment plan. Your first step is to visit our office to determine if Invisalign is right for you. After sending precise treatment instructions, Invisalign uses advanced computer technology to translate these instructions in a sequence of finely calibrated aligners - as few as 11 or as many as 48. For very mild dental malocclusions or teeth that have been shifted slightly in those patients that have previously had orthodontic treatment years ago, there are now shorter treatment plans ranging from 5-10 aligners on one or both arches. Each aligner is worn for about two weeks and only taken out to eat, brush and floss. As you replace each aligner with the next, your teeth will begin to move gradually - week-by-week until the final alignment prescribed is attained. Then you'll be smiling like you never have before!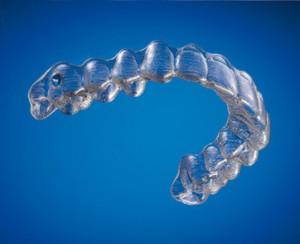 If you want to learn more about Invisalign and how it works, please visit the Invisalign Homepage. To ensure the best possible results, only an orthodontist who has been trained and certified by Align Technology can diagnose and treat using Invisalign. Invisalign is not intended for children and is not appropriate for every adult. It should be emphasized that Invisalign is merely another tool that our office uses to develop beautiful smiles and that it must be used with the same orthodontic principles and goals as traditional braces. Therefore, only an orthodontist can best determine if this treatment is an effective option for you. To see if Invisalign can help you achieve the smile you've always wanted, contact us to make an appointment. We would be pleased to talk to you about the benefits of orthodontics for yourself or your child next time you are in to see us.
To book your consultation or for further clarification, please contact our office by calling 905-866-6606, or by email at receptionppj@gmail.com. We are here to assist you!