Children's Dental Services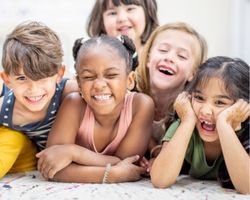 Dr. Mary-Anne Svoboda & her experienced team recognize the pivotal importance of oral health from the earliest of ages. Children's dental needs are of particular significance, as they define how a child's oral health will evolve through adulthood.
To recognize potential problems and focus on prevention, we recommend that you bring your child to see us as soon as their new teeth are starting to erupt, usually around their first birthday.
As your child reaches the age of three, they will likely have their primary teeth, twenty in total. Their permanent teeth will soon follow, making regular dental visits extremely important.
We understand that visiting the dentist at a young age can be an exciting experience. New faces, new sounds, unfamiliar surroundings...and that's all before your child even sit in 'the chair'.
At our Brampton dental office your child's comfort is our priority. Years of experience with children in a dental environment has helped us to create a smooth and relaxed dental experience. An early introduction to the dental office will help to ease future anxiety, as well as promote the best smile your child can have, one tooth at a time!