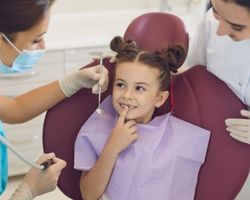 In order for the Doctor to have a full understanding of your child's unique dental needs, we perform diagnostic services.
First, the Doctor will conduct a thorough oral examination. This is done to check the health of the gums, teeth, mouth and throat.
Next, any necessary X-rays will be taken to get a look at the inside of the teeth, gums, and bone. This is to ensure that no problems are lying beneath the surface needing immediate care.