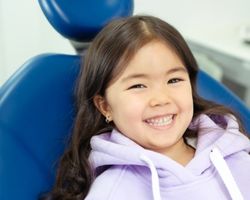 Extracting teeth for a child is not very difficult, but other options should be carefully considered before extraction. Many parents feel that their kid's teeth should be taken out instead of being saved, but primary teeth have an important purpose, and removing them prematurely can cause a lot of problems.
Primary teeth encourage the normal development of jaw bones and muscles, and ensure that there is space for the permanent teeth to grow into. They also help guide those teeth into position. The healthier your child's baby teeth are, the stronger their permanent teeth will be!
Fortunately, when necessary, a child tooth extraction is usually a simple procedure. Kids require much less anesthetic than adults and usually have very little to no discomfort during their procedures. They often are more excited about the Tooth Fairy coming and don't worry about possible dental pain.