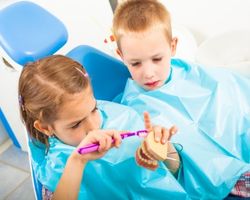 Aside from daily brushing and flossing, regular professional cleanings are one of the most important preventative measures for you to take for your child.
Professional cleanings removes dental plaque and any build up of calculus (tartar) which can cause cavities or gum disease in even the youngest mouth if left untreated.
A cleaning includes polish and fluoride application, as well as education on proper brushing and flossing techniques.