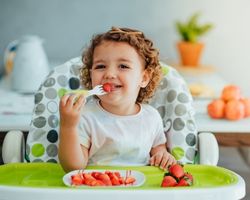 Finding a dental friendly diet is not as hard as it may sound. In fact, most of it is just developing new eating or dental care habits to keep your teeth healthy. The doctor will review healthy diet choices for your child, and will also educate them on proper dental hygiene care – these habits, if formed early, will last the rest of their lives!
Here are a few dental friendly diet tips:
• Eat lots of calcium, the most important nutrient for your teeth. The most common source of calcium is dairy products, although they can be difficult to digest. Other sources are green leafy vegetables, egg yolks, dried beans, almonds, sesame seeds, seaweeds and some root vegetables, especially carrots.
• Vitamin D is another important diet choice for healthy teeth. Food sources of vitamin D are eggs and dairy products, but you can also get Vitamin D from the sun.
• A diet of natural whole foods helps to ensure a healthy mouth flora, which protects against the acids that cause tooth decay and foods rich in vitamin C help to protect gums against periodontal disease such as gingivitis.
• Avoid refined sugars and candies of all kinds! Not only do they increase acids locally in the mouth, but they also undermine tooth health by interfering with the assimilation of minerals in the body. Unpasteurized honey may be the safest sweetener when it comes to tooth health: new research shows that honey prevents the growth of dental plaque bacteria believed to be responsible for dental caries.