We are often asked; when should a child be brought in for their first dental visit?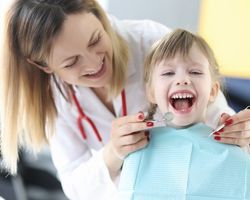 As soon as you're comfortable bringing your child by the office, we'd really like to meet them, we love children and it is often a welcome distraction.
Dentally speaking though, you should bring them in for us to have a look at around their first birthday. Many of their primary teeth will have erupted and we should have a look and ensure everything is as it should be.
These early visits are also great for getting your child comfortable with the sights and sounds of our office. At this stage we can start to monitor their oral development and address any concerns that you may have. We can determine your child's fluoride needs and proper diet for oral and physical health. We can also help you select an appropriate toothpaste, tooth brush and demonstrate their proper use.